PrecisionPoint Reveal allows full access to the data locked within your Microsoft Data Lake, extracting the information you need, when you need it.
Fully secured using the Azure stack, controlled via Azure functions, offered via SaaS model, and fully automated and secured, Reveal will extract then deposit data into your chosen SQL Server destination, giving you full unrestricted access to do with it as you see fit. All whilst providing an ideal balance of performance, cost, and usability when compared to the options within Synapse.
Unlock the potential of your
Microsoft Azure Data Lake
Data lakes are great for storing all your data, regardless of platform, at a low cost.
But extracting all the data you need in a cost-effective performant way isn't easy! If you are looking to gain insight from your Azure data lake, we can help you extract all that information to support your analysis and strategic decision-making.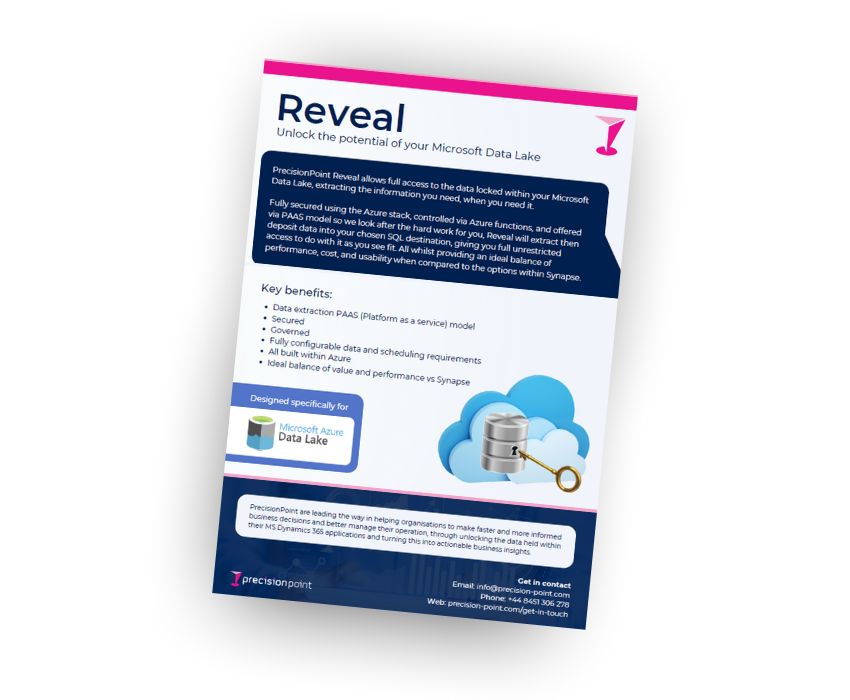 Why choose PrecisionPoint Reveal?
All built within MS Azure
Configurable scheduling requirements
D365 data available in
SQL Server
How did BI for Microsoft Dynamics 365 help others?
"PrecisionPoint was originally intended for the finance teams to consolidate P&L data, but it is now building our commercial KPIs and wider-reaching business reports. "
VP of Operations, Europe
Zyxel Networks
"The final mile can be so important in delivering the business insights and results expected. "
Partner BI Practice
Armanino
"Quick to implement and you can quickly create reports that you know are accurate."
Finance Manager
RHS